It's like Airbnb for scientists
Vienna's only 'Turnkey' 4-? anechoic chamber that is available for private & commercial rental.
Engineered for Electro-Acoustic Measurements. Frequency range: 30Hz to 20kHz, 155m3 full chamber volume. Ground plane: 13.5m2
Audio Precision APX 525 and 555
20dBSPL(A) self-noise with 0dBSPL(A) available via additional pre-wired isolation box
Custom Calibrated 2-axis Turntable with Preset Memory Management
Temperature, humidity and climate variable
All equipment and cabling provided: analog, optical, networking, etc.
Temperature controlled 23°C +/-2°C & climate chamber available
With or without Austrian Audio's Elite Engineering Team
Full summary and report plus additional consultancy available.
Workbench and additional tools available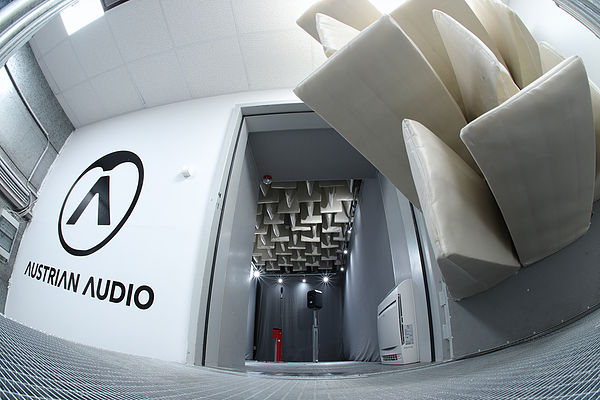 Uniting the modern with our heritage; we're proud to unveil our legacy anechoic chamber! This chamber had been used for decades by some of Vienna's most respected engineers in the pursuit of audio perfection. Many classic microphones and headphones were developed inside this very room.
After many months of working with the old building's owner, then the disassembly, transportation, repair, installation and -most importantly- care; we're proud to make our restored & historic anechoic chamber available for hire.
It is quite probably the only anechoic chamber of its kind that is available for rental to qualified parties.